Volunteers of America Ohio & Indiana Welcomes Six New Members to Board of Directors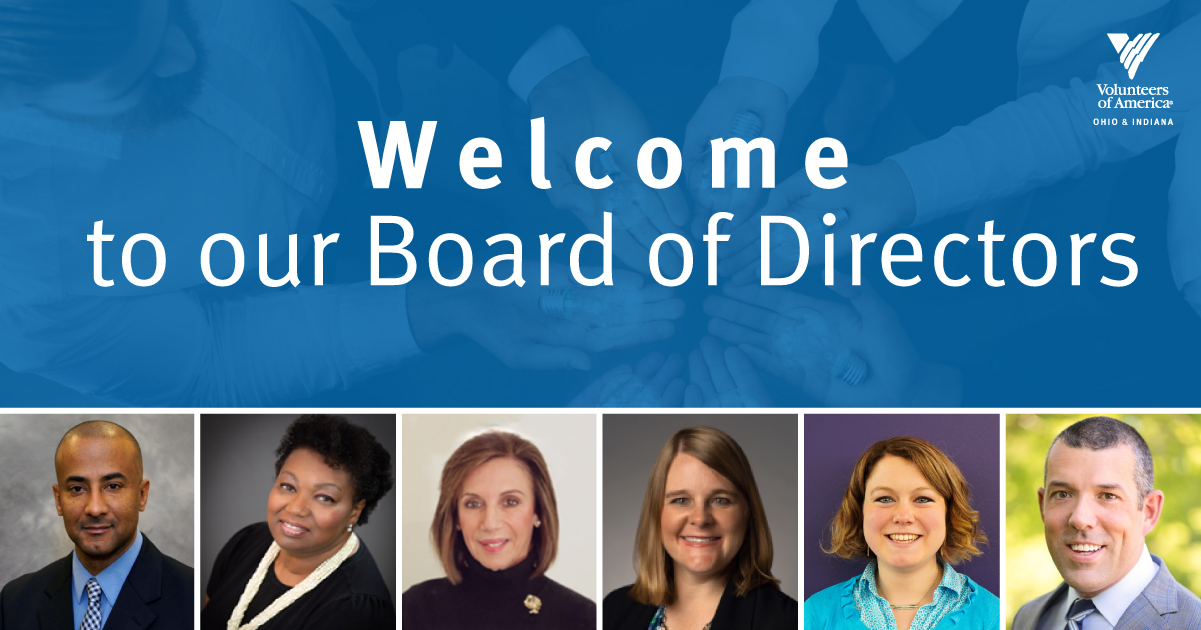 August 19, 2021
Volunteers of America Ohio & Indiana is pleased to announce the appointment of six new members to its Board of Directors. New members include Tony Brown, Vice President of New Business with OneAmerica®; Tracey Clark, Community Impact & Volunteer Manager with Alliance for Substance Abuse Progress; Gwyn Eastom, CPA Partner with BKD, Christina Fagan, Executive Director of Union Home Mortgage Foundation; Dr. Maria Del Rio Hoover, Medical Director of Ascension Health Systems; and Jon Sadlier, Vice President, Market Leader with Oswald Companies. These dynamic new members with varying fields of expertise will serve the mission and support strategic initiatives with Volunteers of America Ohio & Indiana.
Tony Brown
Brown drives new business efforts at OneAmerica and has a reputation for transforming organizations by utilizing data and encouraging collaboration. He uses process improvement strategies he has developed over his 25-year career in product development, sales, and marketing.
Tracey Clark
Clark is responsible for recruiting, training, orienting, and supervising volunteer staff at Alliance for Substance Abuse Progress. In addition to creating and maintaining volunteer job descriptions, Clark ensures that ASAP, INC's Diversity, Equity and Inclusion objectives are met. She serves as the ASAP Hub liaison to Veteran Treatment Court and is also a Board Member of NAACP, Columbus, IN.
Gwyn Eastom
Eastom has more than 19 years of experience in taxation. Her focus is on tax provisions, income tax compliance, and strategic tax planning for clients in the financial services, health care, and real estate industries. Her additional areas of concentration include corporate federal and state taxes and partnership taxation for real estate funds. Eastom is employed as CPA Partner with BKD.
Christina Fagan
Fagan established the Union Home Mortgage Foundation's overall mission and strategic focus areas, while leading day-to-day operations and ensuring alignment with the Board of Directors' vision. She is responsible for defining new opportunities and interfacing with key internal and external constituents with a focus on advancing the company and the foundation's reputation on a local, regional, and national level.
Dr. Maria Del Rio Hoover
Dr. Del Rio Hoover joined St. Vincent Evansville (then St Mary's Hospital) after finishing a neonatology fellowship at the University of Miami, Jackson Memorial Hospital. She helped create the Center for Children in 2005 and became its medical director in 2014 after spending more than 25 years in the practice of neonatology. Additionally, Dr. Del Rio Hoover was appointed by Governor Holcomb to the Healthy Hoosiers Foundation Board of Directors and Vanderburgh County Board of Health.
Jon Sadlier
Sadlier has 20 years of experience working with businesses and non-profit organizations across the full range of employee benefits and financial services. He specializes in the financial and technical aspects of plan strategy and the implementation of innovative, client-specific solutions. Sadlier is responsible for the growth and profitability of Oswald's comprehensive risk and insurance services throughout Central Ohio, as well as direct team management and operations for the firm's full-service Columbus office location.

"I am thrilled to welcome six new members to our board of directors this year. This group will add immense value to the dynamic group of leaders currently on our board. Together, we will lead the organization in strategic initiatives and work toward bold goals that will serve to strengthen mission delivery."

Rob Gilmore, Board Chair
Partner with Kohrman Jackson & Krantz


These new volunteer leaders join members from across Ohio and Indiana to make up the two-state governing board of Volunteers of America Ohio & Indiana.