Volunteers of America Opens Doors to New Affordable Senior Housing Community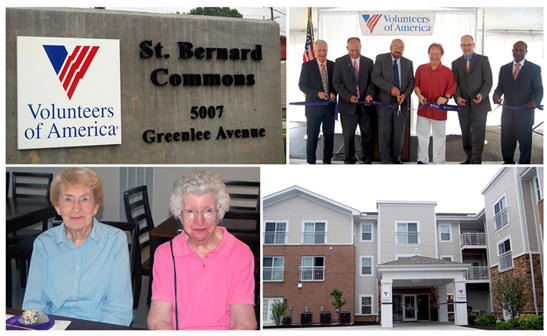 Volunteers of America's newest program, St. Bernard Commons, an affordable senior living community, located at 5007 Greenlee Avenue, recently welcomed its first residents and will celebrate with a dedication ceremony and facility tours on Thursday, June 27 at 10 a.m.
The 38,000 square-foot facility will provide safe, affordable, long-term housing to seniors ages 62 and older. The state-of-the-art, 42-unit, three-level facility includes one-bedroom single and double living units, fully-equipped kitchens and laundry facilities as well as multiple common areas, patios, terraces and outdoor seating. Conveniently located on the corner of Ross and Greenlee Avenues in St. Bernard, senior residents will have access to bus stops, shopping, restaurants, the post office and a local produce and deli market.
"At Volunteers of America, we believe that housing is the foundation for life," said Dennis Kresak, president and CEO of Volunteers of America of Greater Ohio. "With a rapidly aging population, safe and affordable housing for our communities' seniors is an increasingly important issue. The opening of St. Bernard Commons means more seniors will have a safe and affordable place to call home."
As one of the country's largest nonprofit providers of affordable senior housing, operating St. Bernard Commons is a natural fit for Volunteers of America. Nationally, Volunteers of America provides housing and services to 8,000 seniors every year. Volunteers of America is one of the largest nonprofit developers and providers of affordable housing in the country, housing more than 25,000 people in approximately 17,300 affordable housing units each year.
Financing for St. Bernard Commons was made possible through the support of the United States Department of Housing and Urban Development as well as a grant from Hamilton County. Volunteers of America is the largest recipient in the nation of HUD-awarded funding for senior housing and housing for the disabled. St. Bernard Commons is owned by Volunteers of America, Inc. and managed by Volunteers of America of Greater Ohio. The facility was designed by CR architecture + design and Miller Valentine Group acted as contractor for the project.