Residential addiction treatment center for pregnant women and mothers opens in Evansville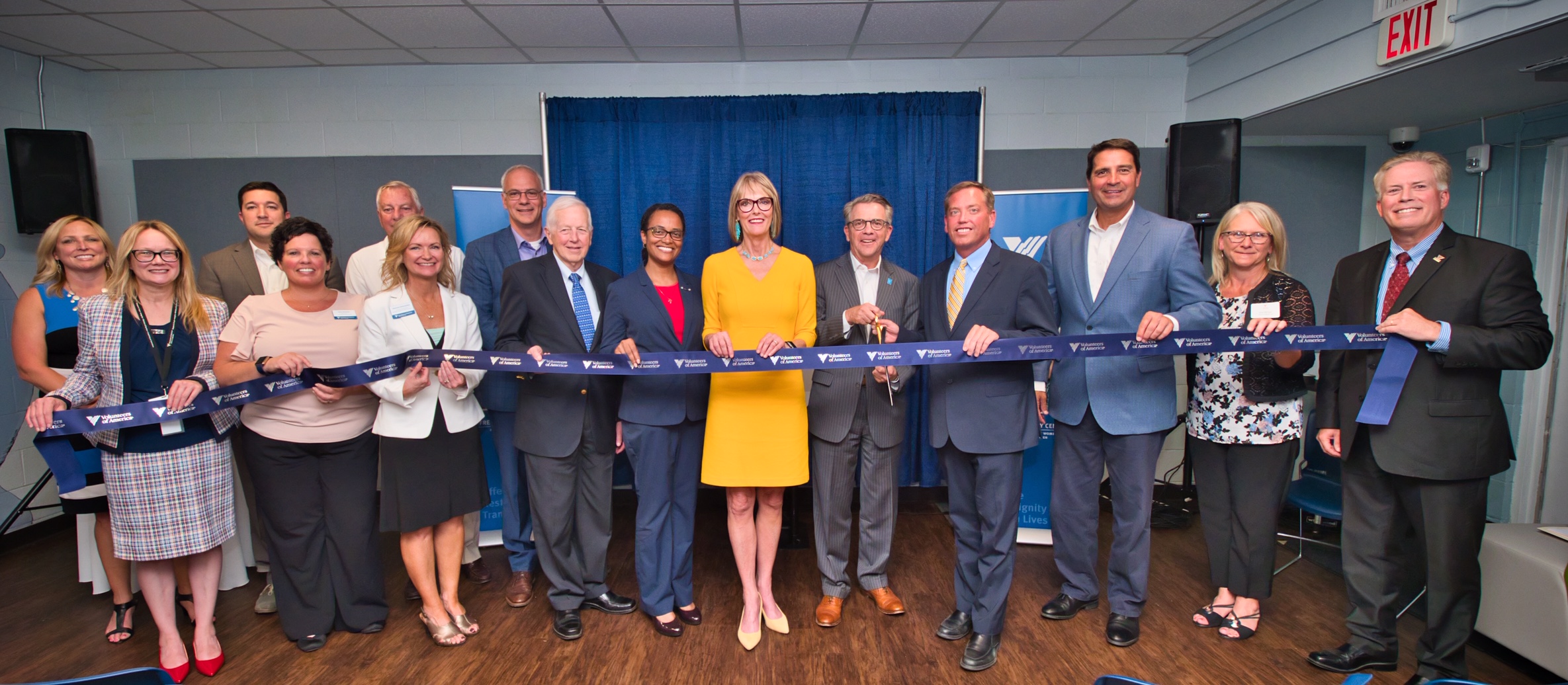 Evansville House keeps mothers and children together

EVANSVILLE, IN – (August 2, 2019) Every 15 seconds, a baby is born suffering from opioid withdrawal caused by a mother's drug use, according to the National Institutes of Health. Volunteers of America Ohio & Indiana today opened Fresh Start Recovery Center at Evansville House to turn the tide on the opioid crisis and help mothers raise healthy babies.
Public officials and invited community leaders toured the 23-bed residential facility, on West Buena Vista Road, where expectant women and mothers with up to two children under the age of five will live and receive support in their recovery and roles as mothers. The program expects to open its doors to mothers and children later this month.
"Being able to live with their babies while receiving treatment in a stable, home-like environment motivates mothers to succeed and strengthens the bond between them at a vulnerable time for both. When we protect the newest generation from substance use disorder, we also strengthen communities."

John von Arx III, president & CEO of Volunteers of America Ohio & Indiana.

Typically, drug treatment programs separate mothers from their children. Fresh Start Recovery Center at Evansville House uses an innovative model that enables mothers to nurture their children while enrolled in addiction treatment, therapy, and parenting and life-skills classes led by on-site staff.
Prenatal drug exposure is linked to children's learning disabilities, birth defects, and emotional issues. Newborns of mothers who suffer from substance use disorder during pregnancy often are raised by grandparents or placed in foster care or adoption.
The State of Indiana partnered with Volunteers of America to open the Evansville center. The Indiana Housing & Community Development Authority loaned Volunteers of America $776,000 toward the purchase and renovation of the building, and the Department of Child Services will refer women to the program.
Indiana Lt. Gov. Suzanne Crouch joined in the ribbon cutting. "Thanks to Volunteers of America, Evansville House will help mothers live purposeful lives and help children grow up in stable homes free of addiction. Fresh Start Recovery Centers break the inter-generational cycle of addiction," she said.
Evansville House is the third Fresh Start program opened and operated by Volunteers of America since 2015, following centers in Indianapolis and Winchester. Plans for a Fresh Start center in Columbus were announced last year.
Evansville Mayor Lloyd Winnecke said, "The City of Evansville addresses the drug epidemic from many sides, including law enforcement and treatment. Fresh Start Recovery Center at Evansville House is a much needed treatment resource for our community. The City of Evansville is proud to collaborate with Volunteers of America Ohio & Indiana to open a center that offers compassion not judgment."
Take a look at our event photos.
Learn more about our Fresh Start Recovery Centers.